Envision Dallas Reaches More People with Expanded Programs
By Beth Walker • Feb 28, 2023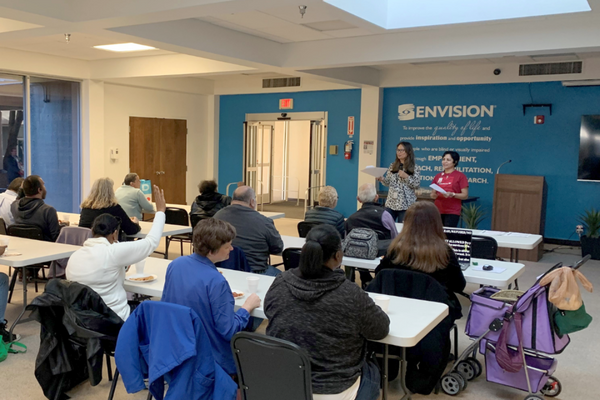 Blog Content
Envision Dallas is continuing to grow every day, and with workshops organized by the low vision rehabilitation clinic team, even more people who are blind or visually impaired in the Dallas area are learning skills to help them maintain an independent life. A workshop focused on finance started in November with partner Bank of America, and the outcome was so big that it has now become a monthly workshop titled Better Money Habits. A new topic is presented each month where Bank of America employees answer questions, provide insight to attendees and are also free for Q&A's after the class is over.

The team at Envision Dallas is grateful for the partnership with Bank of America and the open door for future collaborative initiatives. Bank of America's event manager Vijaya Vemireddy shared her supportive thoughts about the program and how it aligns with their goals.

"As an event manager, I feel the experience of offering financial education sessions at Envision Dallas is very fulfilling!" said Vemireddy. "The audience is very enthusiastic and interactive. They ask a lot of good questions and have a passion to learn and advance their knowledge. Their administration is super supportive! I feel very honored to have this opportunity to directly contribute to the economic mobility of people who are blind or visually impaired at Envision Dallas via Better Money Habits program, and ultimately to the overall Bank of America's purpose to make financial lives better."

In addition to the money workshop, the team has started an Improve your Computer Skills for Seniors 65+ workshop on the 2nd Monday of every month. They host the class in the LC Industries Foundation Assistive Technology Center to teach seniors with vision loss how to utilize assistive technologies that can help them widen their computer skills and comfort levels.

To better inform people about the Low Vision rehabilitation services offered at Envision Dallas, a new workshop series on Occupational Therapy began in February. When the first class ended, participants continued sharing for over an hour about their own experiences with vision loss. This has prompted Jennifer Svelan, Manager of Rehabilitation and Support Programs at Envision Dallas, to start implementing a monthly Adult Support Group for the Envision Dallas community as the need has grown for members to have even more of a sense of community and support.

"The best part about holding event programs for Envision Dallas is being able to truly connect with our community members who are blind or visually impaired," said Svelan. "I receive phone calls weekly from individuals who are impacted with vision loss and express experiencing a deep sense of loneliness and hopelessness as a result. I encourage them to join us at one of our many events and when they do, it is almost like seeing a light bulb get turned back on and shining hope everywhere. They are laughing, they are smiling, and they are making friends with people who genuinely understand and share their journey with vision loss."

Svelan wants people to know that the programs being offered at Envision Dallas are significant to North Texans who are blind or visually impaired, and can make a positive impact on their mental health and wellbeing.

"People love the opportunity to come together, and I am constantly being asked when the next event will be. I think often when people begin losing their sight, they let go of their social activities first. We can provide that sense of community, a place of inclusivity where they can engage with others who are experiencing similar paths in life."

To learn more about our programs and services, contact us today at 214-821-2375, email dallasrehab@envisionus.com, or visit our events page.