Envision Dallas Employees Achieve Excellence
By Beth Walker • Sep 25, 2023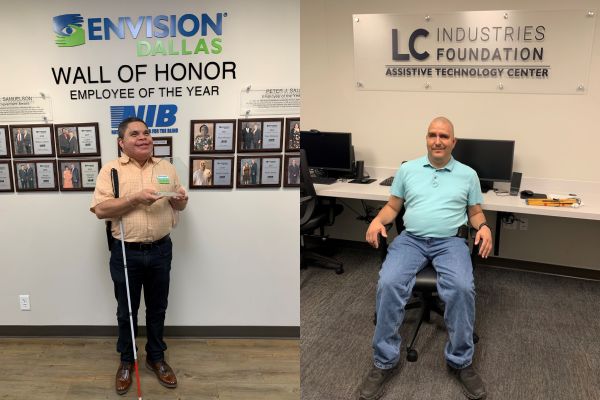 Blog Content
Al Rodriquez is the Assistive Technology Trainer at Envision Dallas and has been with the company since 2008, just hitting his 15-year anniversary in March of this year. Al is also a member of the American Council of the Blind Texas (ACBT). The ACBT promotes and acknowledges positive contributions made to state and local communities by blind and visually impaired individuals through advocacy, awareness, education or other volunteer efforts. Every year an annual awards breakfast is held by ACBT in conjunction with their annual conference, where recipients of the Who's Who Among Blind Texans Award are announced. This award honors people who are blind or visually impaired that have established exemplary service in their community. Al Rodriquez is this year's award winner! With this award, Al has also received a certificate of membership into the ACBT Who's Who Among Blind Texans Honor Society. "I am so grateful to have won this award," said Rodriquez. "Helping others is my nature, and blindness is not an obstacle."

Edward Alonzo also has accomplished a significant career milestone. Edward started at Envision Dallas in October of 2021, having moved from Rainell, West Virginia with his wife Keela Alonzo, also visually impaired, to pursue more employment opportunities that were accepting of people with disabilities. Originally from Texas, Edward was excited to come back to the Texas area to work, and started in manufacturing at Envision Dallas, most recently manufacturing eye glass cases for the U.S. Air Force. Now, Ed has been promoted to Assistive Technology Trainer! He is certified in training JAWS2023, iOS16, Windows10 and Windows11, Mac, MicrosoftOffice2019, BlindShell phone and RealSAM phone, all of which are programs that with the right training, any person who is blind or visually impaired can use to regain independence and confidence in their technology skill sets.

"I have always had a knack for teaching technology to other people and I enjoy watching people grow in their new knowledge of learning," said Alonzo. "I am so happy that I can pursue my dream of teaching technology to other people and helping them obtain their goals in life. I thank my wife, Keela, for her support, as well as Envision Dallas trainers Al and Amando who have helped me along the way to achieve my goal of becoming an AT trainer. Thank you to all who have helped me find this job, I love it so much."

Visit envisionus.com/stories to read more inspirational stories about Envision & Envision Dallas employees, program participants and clients of our low vision rehabilitation services.