Envision Xpress Celebrates Longest Running Base Supply Store
By Envision Marketing • May 24, 2022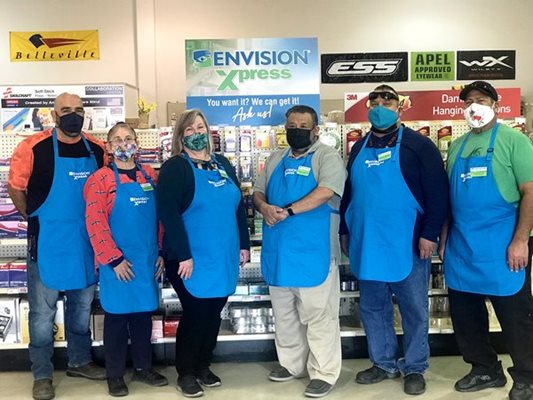 Blog Content
The Base Supply Center (BSC) in Lemoore, CA was the very first Envision Xpress Base Supply Center (BSC), opening on October 1, 1997. The employees of the Lemoore BSC epitomize our core values every day, particularly passion, teamwork and excellence.

The doors opened with just three employees: a manager, receiver and cashier/stocker. In the beginning, it was just a large warehouse with one checkout stand. Renovations were done to create its current look to more of a storefront appearance. Once completed, a grand re-opening was held during October 1998. This coming October will mark 25 years for the Lemoore BSC since the doors first opened. The team has plans in motion on how to celebrate this milestone already.

Over the years, the team has developed relationships with the customers and those who work around them. The whole Lemoore team has a heart for service and giving back. They held a fundraiser for a co-worker who had been in the hospital, they collected food and toiletry items for local aid organizations, and they adopted a local family in need to provide gifts and food for the family during the holiday season. This tradition was started by Envision Xpress employee, Alfredo Quintero. Their elaborate Halloween costumes and displays are enjoyed by many customers and employees. This past year, they wanted to extend their fun and holiday spirit and sent Halloween goodie bags to the children and teachers in the Envision Child Development Center. To top it off, the entire team even had a hand in the construction of their new breakroom.

Augie Maltes is the Assistant Manager at NAS Lemoore. He was the first Envision Xpress employee to be hired and has been with Envision Xpress since Sept. 27, 1997. Augie served 20 years in the U.S. Navy as an Aviation Storekeeper (AK). He utilizes his military knowledge and experience to provide quality customer service to the customers here on NAS Lemoore and the many customers we service throughout the state. He is known as the "tool guy" by customers and employees alike. He has developed a vast knowledge in this particular area that has now become his expertise. Augie enjoys the "thrill of the hunt" when looking for that hard to find item at the best price for his customers. He also uses his gained knowledge to help educate some of the junior sailors on how the processes for purchasing work.

Augie is from Puerto Rico and New York and was an active softball player while in the service and several years after his service. After retiring from active duty, he also began umpiring games of all sports for the commands on NAS Lemoore and out in the community. He is still involved in officiating, just not in the capacity that he used to. Augie enjoys spending his free time with his seven grandchildren and his two great grandchildren. He is looking forward to retiring, yet TBD on timing, to enjoy spending more time with family and traveling.

Denise Harris is the Manager at NAS Lemoore, joining the Envision Xpress family on January 13, 1999. First hired as a Cashier/Stocker, she worked her way up the ranks. She was promoted to the position of Assistant Manager, in 2001 and then promoted to BSC Manager in 2004. She credits her success to her work ethic and overall outlook on life. Developing relationships and providing superior customer service have always been of utmost importance to her. When asked what she would contribute their stores success to, her reply was, "We have an excellent team of employees. Each one special in their own way. There is a synergy that has been created, mainly because we have developed a common outlook and goals. To be a kind and good human and to provide excellent customer service. We want our customers to feel like family, and provide a happy, pleasant place to shop. Remain humble and thankful for what we have accomplished and always strive to be better, do better, and have fun!"

Denise is from Wyoming and Iowa and came to NAS Lemoore in 1988, as a military spouse. It was when she arrived an NAS Lemoore that she began working for the NEX at various locations over her employment with them, always working her way up the ladder to a supervisory capacity. Denise has a natural ability to develop great relationships with her customers and those around her. She believes this is the foundation for excellent customer service and business growth. "It's always been about the customer service for me," she says.

Denise enjoys spending most of her down time with her family, especially her three grandchildren. She enjoys "little adventures", going to new places or doing something she has never done before. She likes to read, craft, cook and bake.

The work of the BSC Lemoore team does not go unnoticed. They have been recognized for their customer support and service by the Strike Fighter Wing Pacific (SFWP) and from Carrier Air Wing Nine (CVW9) and was the recipient of the National Industries for the Blind BSC in Excellence award in 2021.

"The experience and customer service Envision provides to our fleet has always been superior," stated a commander at the Lemoore Naval Air Station. "I applaud your sterling professionalism and the unprecedented support you provided Strike Fighter Wing Pacific and the entire flight line."

Another commander shared, "You provided support to all elements of Air Wing for material that was not readily stocked or available onboard the ship. Whether it was aircrew boots, protective clothing or office supplies, your "can-do" attitude and expeditious processing of vial requirements enabled the squadrons to provide round-the-clock combat flight operations in defense of our great nation in the worldwide battle against terrorism."

Because of these developed relationships and earned reliability, the Lemoore BSC was asked to take over supplying flight clothing to their customers in 2006. This established credibility was also the reason the Lemoore BSC was asked to take over supplying Hazmat, in a consignment capacity, in 2010. The store has seen significant growth in the last 24 years and continues to grow even more as its customer base on NAS as Lemoore grows.

Thank you to the Lemoore BSC Team to your continued success, passion and dedication to our mission!