Envision Arts Artist Featured by Downtown Wichita
By Beth Walker • Jun 27, 2023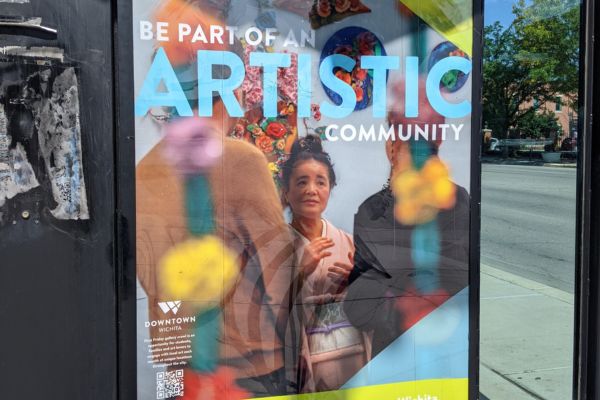 Blog Content
Tomiyo Tajiri is a visually impaired artist who participates in the Envision Arts Program. Diagnosed with Retinitis Pigmentosa, her vision has deteriorated over time, and she can now only see a central pinhole of vision; but this has not stopped her from living a happy and fulfilling life. She spent much of her career honoring the traditions of Japanese art and fashion hosting origami workshops in California and New York, and eventually selling her work at the Wichita Art Museum. She aims to inspire and heal through her touchable and colorful artwork.

In 2019, Tomiyo was awarded a $5,000 grant to create her first public work of art, "Maitreya," which was selected by Downtown Wichita to be designed and is permanently installed in downtown Wichita, Kansas in Gallery Alley. Now, she has been featured in artwork on a local Wichita bus stop, created by Downtown Wichita.

Envision and Downtown Wichita have a long-standing partnership. When Gallery Alley in Wichita was established as a permanent public space, Downtown Wichita partnered with Envision and received an additional grant from the Knight Foundation Fund at the Wichita Foundation to further enhance the space by creating a destination for inter-sensory art experiences.

Following a call for entries, five local artists were selected to create work for the alley with a conscious effort to serve all visitors, with specific consideration for individuals of all ages who are blind or visually impaired and for those with intellectual and developmental disabilities. The new sculptures, including Tomiyo's Maitreya pieces, made their debut in 2021. Audible QR codes and braille were also established on Gallery Alley signage through Envision's partnership.

In the fall of 2023, there will be another artwork partnership between Envision and Downtown Wichita, meant to engage over 25 community organizations and agencies in the creation of tactile artwork. We are grateful for our partnership with Downtown Wichita and their feature of Tomiyo Tajiri.

To learn more about Tomiyo, click here for more information.

To learn more about the Envision Arts Gallery, click here for more information.