2019 Employees of the Year
By Envision Marketing • May 31, 2019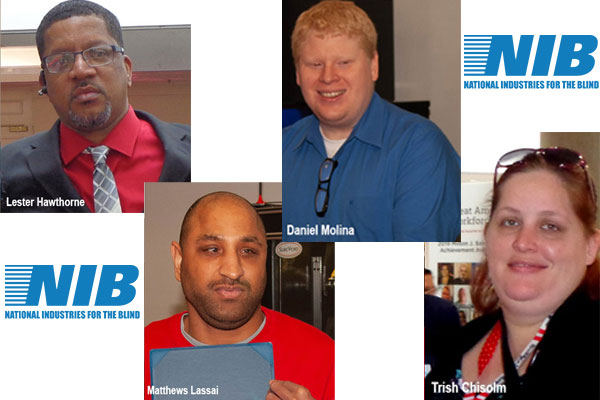 Blog Content
Daniel Molina, Lester Hawthorne, Matthews Lassai and Trish Chisolm are well known for the dedication and thoroughness they put into their jobs. Couple that with what they do daily for their fellow coworkers, and it's easy to understand why they were selected as Envision's 2019 National Industries for the Blind (NIB) Employee of the Year nominees. They were officially honored on April 30 during the NIB (opens in new window)/NAEPB (opens in new window) National Symposium.

Daniel and Lester are this year's indirect labor Milton J. Samuelson Career Achievement Award nominees.

Daniel has been in his position as an e-commerce and logistics specialist in Wichita, Kansas for a little over a year-and-a-half. He operates at the highest level and is quick to seek out added responsibilities.

"Being selected as employee of the year has been a great honor, and I am thankful to have learned so much in my brief time here," Daniel said. "Envision has provided me the platform to develop both professionally and personally and I will forever be grateful for that opportunity."

Since relocating to Wichita to join the Envision Xpress administration team, Daniel has immersed himself within the blind and visually impaired and local communities, participating in events and outreach. He has a seat on the Envision Employee Advisory Group, volunteers at Envision-sponsored music events, participates in Envision's golf clinics and is active with Wichita Association of Blind Athletes fundraisers.

Lester is an example of someone who came out triumphant after losing his vision to retinitis pigmentosa in 1997.

He was singled out for his ongoing efforts in Dallas, Texas to inspire others who are going through sight-loss transitions and let them know it is possible to be happy and successful with a visual impairment. He also works with his church pastor to reach out and help others in need. His motto in life is, "Let's make it happen."

At Envision Dallas Lighthouse for the Blind, Lester maintains the fire extinguisher, tool calibration and vendor approval programs as part of the internal audit team. He is the in-process inspector and final inspector.

"It's an honor to know that the work I do here is appreciated by my co-workers," Lester said. "I'm always available to help any employee in any way I can, whether it's assisting with the ATM, grabbing a soda or getting them something to eat. I'm here to be a leader, and I appreciate being recognized!"

Matthews and Trish are the direct labor Peter J. Salmon Employee of the Year Award nominees.

Matthews has worked for Envision in Wichita, Kansas for a little over eight years. He displays outstanding commitment to his team and Envision.

"It's an honor to be the employee of the year. I had a great experience going to Washington, D.C. It was a lifetime event, and I learned a lot," Matthews said. "It feels good to know that the company I work for appreciates what I do. I will keep doing my best to represent Envision in any way I can."

Matthews is a strong mentor on second shift who leads by example. He regularly offers support, encouragement and assistance to his peers and coworkers while maintaining and promoting positive moral with an up-beat, can-do attitude.

Trish is currently a machine operator and has worked with the Envision Dallas Lighthouse for the Blind team for seven years. She was nominated for the award for going above and beyond to help out in her department and other areas.

"Trish is one of the most outstanding workers at Envision Dallas Lighthouse for the Blind," said Armando Chavez, her supervisor. "She is always happy and willing to do whatever it takes. Her attitude is worth a million bucks."

Trish has never let her low vision stop her from learning new machines, and she recently expanded her skillset to include pad printing.

When she first found out about the award, her initial thought was, "I've been seen!"

"I feel so appreciated and honored that I was selected from a group of so many," she said. "I'm honored and excited to be recognized. I love my work here. I love to take on new projects. I love the challenge."

The Peter J. Salmon Award was created by NIB's board of directors in 1968 to honor the accomplishments of employees who are blind and excel in their positions at NIB- associated agencies. The award is named for the late Dr. Peter J. Salmon, who was instrumental in passage of the Wagner-O'Day Act, the landmark legislation that led to the formation of NIB.

The Milton J. Samuelson Career Achievement Award honors individuals who are blind and demonstrate career advancement at an NIB-associated nonprofit agency or in the private sector. The award is named for the late Milton J. Samuelson, a former NIB board member and past executive director of The Chicago Lighthouse for People Who Are Blind or Visually Impaired.