Celebrating National Disability Employment Awareness Month Now and Every Month
By Holly Herring • Oct 11, 2022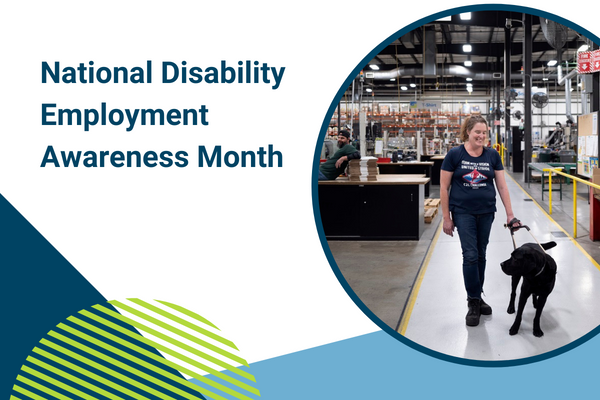 Blog Content
Throughout October, we have been reflecting on the importance of an inclusive workplace in honor of National Disability Employment Awareness Month (NDEAM). As one of the largest employers of people who are blind or visually impaired in the United States, Envision benefits daily from the contributions of people of all abilities.

Observed annually, NDEAM celebrates the contributions of employees with disabilities both past and present and showcases supportive, inclusive employment policies and practices. The U.S. Department of Labor named the 2022 NDEAM theme as "Disability: Part of the Equity Equation," recognizing the vital role people with disabilities play in making the nation's workforce diverse and inclusive.

Through crucial services and meaningful programs that bring together people who are typically sighted and blind or visually impaired to encourage, inspire and learn from each other, Envision aims to change perceptions about people with disabilities. Through adaptive and assistive technology, sighted peers witness every day at Envision that colleagues who are blind or visually impaired are intellectual, independent and can accomplish more than most of society believes to be true.

When talking with someone who is blind or visually impaired, it doesn't take long to realize they are just as driven as anyone else to reach their goals and function at the highest level possible. Read testimonials from several Envision/Envision Dallas employees below who are blind or visually impaired to better understand their perspective.

"As a person who slowly lost their vision from age 14, there was always that constant worry day after day about being able to work and contribute to society. Volunteering with the Envision Kids Club allowed me to be introduced to the blind and visually impaired community and all that is possible. Now at 46, I've been working for more than 10 years at Envision. The worry is gone, and I feel I'm earning a living and not a handout which is important for me to be able to raise my daughter. This is due to the upward mobility Envision encourages and has available for all employees blind or not." - Andy Hoffman, Inside Sales Representative, Envision

"I'm Blake Lindsay and I've been totally blind since infancy. I enjoy National Disability Employment Awareness Month as I get to encourage the public on how much better it is for people who are blind than any time. I have been blessed to work with several companies over the past 35 years. But 13 years ago, I found my true passion. I plan to serve with Envision Dallas for the rest of my life. Envision Dallas is the largest employer and service provider in North Texas for people with blindness. This organization is productively impacting people all ages and stages of life. Each day I feel like I'm working with a large family of people who aren't sitting at home with nothing to do, because Envision has a variety of interesting and fulfilling employment that people can be proud to be a part of. Let's celebrate National Disability Employment Awareness Month together this year. Don't feel sorry for people with blindness, but instead get excited about what we get to do in the workplace." - Blake Lindsay, Outreach Manager, Envision Dallas

"During the first couple of years after being diagnosed with a visual limitation (cortical blindness), I lived a very mundane and lethargic existence, which included an attempt at suicide. However, it was my relationship with God, the unconditional love that is shown to me from my wife and my employment at Envision that saved my life. Literally!" - Sedrick Veal, Customer Service Representative, Envision

"Live to love the opportunities that are given to you. I surely do. Envision has given me a great opportunity to do what I enjoy, which is helping others. I am grateful to work for a company that continues to break down barriers and allows me to grow into my purpose. From manufacturing to the Envision Child Development Center, and now helping with assistive technology in the Envision Vision Rehabilitation Center – it's been an awesome journey and a great way to fulfill my passion of helping others." - Laridda Williams, Early Childhood Educator, Envision

"When I came to Envision, I had been working as a nurse's aide, and was looking for something more. I was willing to start at entry level and be trained. I knew I was capable of so much, but I had not been given the chance in a mostly sighted workforce. I started at Envision as a Sales Associate in the Print Express store that Envision owned. Since then, I have received so many opportunities for training and advancement that I don't feel I would have received anywhere else. Going through the Business Management training, and other trainings that Envision has offered has been so valuable and has helped me to be more prepared and successful in my current role." – Jamie Musson, Print Manager, Envision

Beyond employment, Envision's Workforce Innovation Center is putting a greater spotlight on digital and workplace accessibility, challenging companies to embrace inclusivity by creating websites, spaces, enterprise systems, etc. that are accessible for all customers and job seekers, including those with disabilities. According to the U.S. Census Bureau, about 56.7 million people, or 19 percent of the population, have a disability. They are a large group that shouldn't be overlooked.