Celebrating 90 Years of Envision: What Envision Means to Me - Regina
By Beth Walker • Jun 01, 2023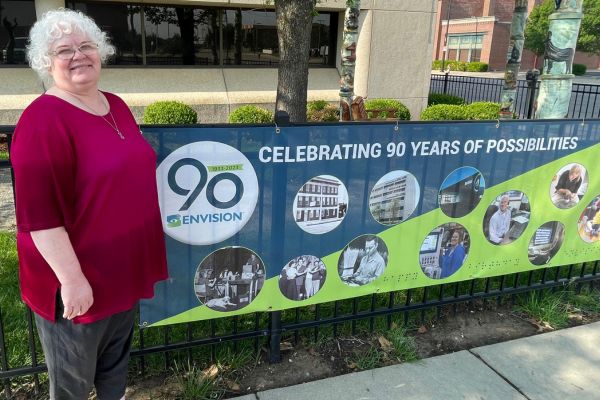 Blog Content
Regina Henderson has been with Envision for 34 of these 90 years. She has been legally blind since birth. In 1987, Regina was going to college at Wichita State University to study music education when she met her husband of 35 years. After getting married, she was looking for job opportunities in the phone book when she found "Wichita Industries and Services for the Blind" (Envision's former company name) listed as an employment opportunity.
"Little did I know at that moment that I had already previously been introduced to Envision. When I saw the listing in the phone book and showed my mom, she told me I had been referred to the Low Vision Clinic, now Envision's
Rehabilitation Center, when I was just five years old!"- Regina Henderson.
Regina started working as the receptionist for Wichita Industries for the Blind, now Envision, in 1990 and stayed in that position for two years. She then went to work for Kansas State Bank and Trust, now INTRUST Bank, and stayed there for six months as an Insurance Credit Clerk for Commercial Loans; after this, she came back to work for Envision and has been with Envision ever since.
When asked why she has worked for Envision for so long, she replied: "I knew my blindness was always understood and accepted at Envision. My love has always been helping and doing things for others, and Envision's mission matches that love and fills that passion I have always needed in my career life."
Regina worked in the Work Activity Center, now PRIDE, for three years, was the Executive Assistant to the Director of Rehabilitation from 1992 to 1995, and worked in the Vision Rehabilitation Center owned by Via Christi as the receptionist, low vision aid trainer and overseer of new patient orientation for a year after. She then started working for Le Print Xpress, now Envision Print Services, in a customer service / print manager position, staying there for 17 years. She currently works as a Purchasing Agent through Envision Xpress, a subset of Envision located in Base Supply Stores on 16 different Military bases, which provides supplies to the U.S. Military and employs individuals who are blind or visually impaired. She has worked as a Purchasing Agent for 10 years. She has also been employee of the year three times in her career with Envision.
"This company has been very good to me. I have made lifelong friends here, and the mission of Envision to serve people who are blind or visually impaired is something I am deeply passionate about," said Regina.
"I have seen Envision touch every corner of the community. For example, one day I was getting my hair done at the salon, and my hairdresser knew I worked for Envision. We began talking, and as it turned out, one of her other clients had low vision and was seeking help and support. Through this connection I was able to help her client be referred to Envision's Rehabilitation Center. Envision truly touches so many lives. Envision can't create miracles, but it sure feels like it sometimes!"
Regina still volunteers for many Envision programs and often visits individuals in PRIDE, Envision's Adult Day Support Program for adults who are legally blind and have an intellectual developmental disability. She is a true supporter and cheerleader of Envision and is proud to celebrate Envision's 90th birthday.
"It has been an absolute wild ride, and I have loved every minute. I look forward to many more years of Envision to come; happy birthday to a wonderful organization!"