Celebrating 90 Years of Envision: What Envision Means to Me - Michael
By Beth Walker • Jul 07, 2023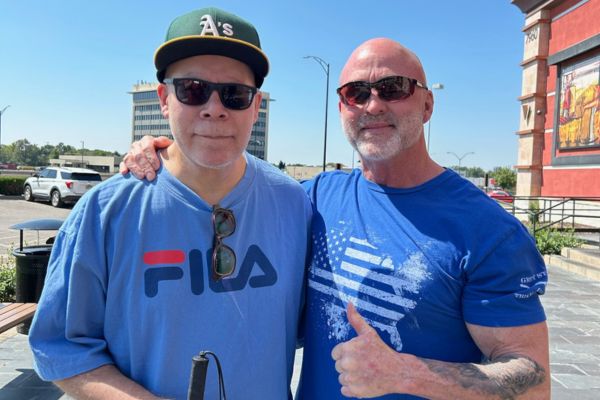 Blog Content
Michael Taylor has been a patient of the Envision Vision Rehabilitation Center (EVRC) for two years. He is a professional musician, versed in guitar and piano, and produces and writes his own songs. He still travels playing music today and is working on his newest album.
At 37 years old, Michael was involved in an accident that caused irreparable damage to the vestibular nerve of the brain, causing vision loss and other injuries. His doctors said that they were unsure if he would ever be able to walk again; but he proved them wrong.
Michael went on to become a teacher for high school kids and adults with disabilities at the Cerebral Palsy Research Foundation, teaching for 14 years. In early 2021, he started to notice his vision deteriorating rapidly.
"I had peripheral vision loss after my injury, but it had started to get worse and worse, and I didn't know what to do. I had known about Envision, but it wasn't until my vision loss started to get bad fast that I was referred to Envision," said Taylor.
Michael met with Dr. Don Fletcher, Senior Medical Director at Envision's Rehabilitation Center, who told Michael that his vision loss from the brain damage could not be improved, and that he needed services to help him maintain the vision he had left.
"Dr. Fletcher told me that I mainly had peripheral vision loss, but that my field of vision was down to 10 degrees, the size of a post it note. I can see light, shadows and color contrast through my central vision still to this day, but my peripheral vision is almost gone," said Taylor.
"I still remember Dr. Fletcher saying, 'I work with a guy named Ray that you need to be seeing, and I think you just might get along with him'. Little did I know that would be the start of getting my confidence back, being supported, and having a true friendship blossom."
Ray Oddis is the Orientation and Mobility Specialist at Envision's Rehabilitation Center and has over 30 years of experience in the low vision field. Many may not know that he also used to be a professional boxer and trained professional fighters. Michael was a professional athlete at tennis and baseball, and he bonded quickly with Ray over their pasts as athletes.
"I have never met someone who was able to observe people so well, and I think it was because of his past as a fighter," said Taylor. "Ray started assessing my vision by having me walk with him across a street. He told me that I needed to be learning to use a white cane, and from there our training began."
Michael was taught many rehabilitation techniques through Ray. Ray showed Michael how to utilize other senses such as hearing and touch to cross streets and listen for audible crossing detectors, walk across different ground terrains and levels, and would even accompany Michael to the mall to show him how to navigate in public areas. He also showed him balance exercises because Michael's injury caused issues with balance and helped him learn how to utilize touch and not rely on sight so he could start playing music again.
"All of my rehabilitation learning was an adjustment for me. Being a semi-professional athlete in the past and putting a hold on music due to my vision loss was hard for me to accept. It was difficult for me to know that I was going to have to use a white cane and adjust to not having vision to help me. Ray would ask me what my fears of being blind were and he really helped me learn my fears and how to overcome them. He treated me as an individual person with my own needs and he helped me gain my confidence back," said Taylor.
Michael is still a patient of the EVRC today. Ray visits Michael's home and practices new routines and techniques to help him navigate with his cane and will walk with him around his neighborhood to help him learn to navigate in his area.

"Michael is a tremendous example of the inspirational synergy that exists between students and trainer," said Oddis. "He is a dedicated student who works tirelessly to gain his independence. When he masters different levels of mobility, he will contact me and inform me of another goal he wants to achieve, and then he inevitably conquers that goal. He is a true champion, and I am so lucky to have the privilege to work with him."


"The training I received through Envision was vital to my existence as a person who is blind, and I can do things I never thought I could do before. Envision has been an important part of me gaining my independence back. Ray's training was priceless to me, and an added friendship brought so much value to my life, especially knowing that I wasn't struggling alone. I will always have my ups and downs, but I feel good about my future." -Michael Taylor.