Blind Dinner Experience at Spirit AeroSystems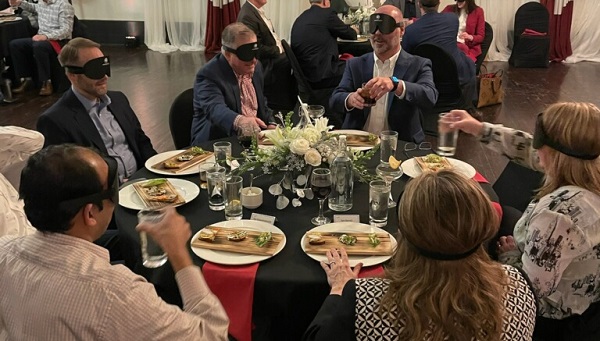 Blog Content
Michael Monteferrante, President and CEO of Envision, was honored to be a guest at a holiday party for many of the leadership team members of Spirit AeroSystems. Spirit is a generous support of Envision and Michael was able to share Envision's mission. In addition, he led the group in a blindfolded demonstration at the beginning of their dinner.

"At Envision, we strive to explain and educate people who are sighted about the abilities, as well as challenges, of people who are blind or visually impaired - but it is another thing to actually have them experience it for themselves," said Michael. "While being blindfolded at dinner, the guests were able to better understand what it might be like to be blind or visually impaired. It was an impactful moment, and I was grateful to be a part of it."

"It was inspiring to learn more about the story and legacy of Envision from Michael, and how its mission extends beyond Wichita," said Chuck Cadena, Vice President of Corporate Affairs, Spirit AeroSystems. "I was impressed by the statistics on the long tenure for many employees at Envision. Working at a company with similar employee tenure, I know that speaks to the quality of the organization and the passion the people at Envision have for their work. Envision creates opportunities that are hugely impactful in people's lives."

"Spirit AeroSystems is honored to support Envision and its inspiring mission. Envision provides life changing and meaningful opportunities to those in our community who are blind or visually impaired. We are proud to partner with Envision on building a more inclusive society that moves our entire community forward," stated Mark Suchinski, Senior Vice President & Chief Financial Officer, Spirit AeroSystems.