Art therapy model
By Envision Marketing • Jan 04, 2016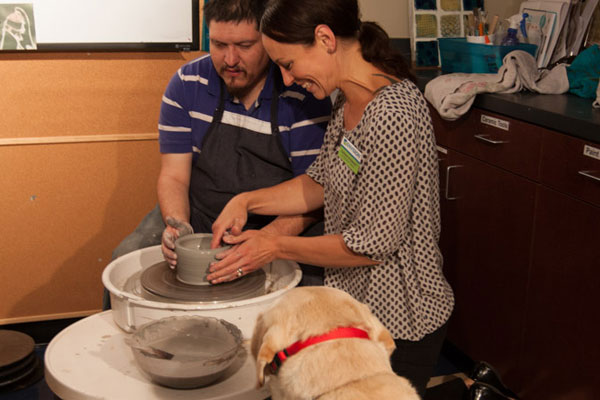 Blog Content
When the Alzheimer's Association of Central and Western Kansas wanted to learn more about the benefits of art therapy for the people it serves, it turned to Envision's Art Education Teacher Sarah Kephart . The group held its 4th Annual Kansas Education Conference on Dementia on November 17 in Wichita. Envision was a silver sponsor of the event.

Kephart was asked to make a presentation on the topic "Art Therapy for Individuals with Dementia." The suggestion to invite Kephart was made by Deb Wetta, Director of the Vision Rehabilitation Clinic at Envision who also served as a committee member for the conference.

One of 12 presenters, Stewart focused on the parallel psychological effects that people with vision loss and dementia experience and the powerful effect art can have in their lives. As an example, she shared a story about an 83-year-old woman with macular degeneration whose first day in the Envision Art Program coincided with Kephart's first day on the job. This woman was struggling with depression and feelings of isolation and knew she needed to find a creative outlet where she could socialize with others. Once she connected with ceramics at Envision, her outlook on life changed and she found joy in creating. Others, too, found joy in her art, as she quickly became one of Envision's top-selling artists.

"Creative expression can ignite memories, become a vehicle to open up lines of communication and preserve stories that have been told," Kephart said.

Art therapy benefits, however, extend beyond the individual artists. Kephart stressed that creative programming has a great impact on families and caretakers as they see their loved ones' quality of life enhanced and their dignity restored.

By the end of her presentation, Kephart was successful in piquing the curiosity of the medical professionals and dementia caregivers in the audience. Her goal was to encourage the group to create similar programs and give an open invitation for the Alzheimer's Association to partner with Envision on art therapy initiatives.

"We may be different organizations that focus on different medical conditions, but we all have the common goal of improving the human condition," Kephart said.

For more information on the Envision Arts Program, contact Sarah Kephart at Sarah.Kephart@envisionus.com.