Are Guide Dogs Allowed in Rideshares or Restaurants?
By Kennedy Miller • May 03, 2022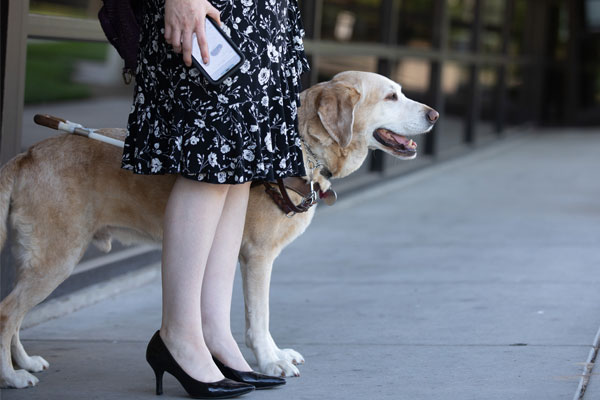 Blog Content
Are Guide Dogs Allowed in Rideshares or Restaurants?

Have you ever seen a guide dog hard at work? Have you ever wondered if guide dogs could be brought in an Uber? A Lyft? Restaurants? Stores?

Guide dogs, also known as service dogs, are a type of assistance dog that lead people who are blind or visually impaired, helping them navigate situations or obstacles. The American Disabilities Act ensures that people who are blind or visually impaired are allowed to be accompanied by their guide dog everywhere that is open to the public. This means that any individual is allowed to bring their guide dog into stores, restaurants, office buildings, taxis, buses and all areas of public accommodation. Guide dogs are necessary tools that individuals need to navigate daily life. There is also a rule that no extra charges can be added because of the guide dog's presence. However, the guide-dog handler is responsible for any damage to the premises that the dog might cause.

Specifically, regarding ride-sharing apps, Uber and Lyft have their own regulations to ensure that their drivers are following these laws. Service animals must be accommodated in compliance with Uber's policy. Under Uber's accessibility section on their app, you can report if your trip was denied due to your service animal or if there was an issue with a service animal. Lyft has an FAQ section on their app that addresses service animals and states that all service animals are welcome to ride with Lyft and you don't need to show any proof that your animal is a service animal. There are also instructions on how to use VoiceOver in their app. Similarly, Uber states that their app is designed to be compatible with VoiceOver for iOS, Google TalkBack and Samsung Voice Assistant. They're also designed to be compatible with dynamic type features.

Kellie Gerdts, Customer Service Representative at Envision, always has her guide dog with her at work and in public.

"My guide gives me wings and I feel like I can fly. When I have my guide dog with me, I can travel so effortlessly, navigating around obstacles without difficulty. I also can travel to unfamiliar places, knowing that my guide can locate what I need such as an empty chair in a waiting room or the set of stairs," said Gerdts. "As for when I am in public, most of the time I don't have issues when I am in stores or restaurants. It is the rideshare services where I encounter most of my challenges. I have been denied many times do to having a guide dog and many refuse to be educated on the laws. Because of this, I do have some anxiety and brace for a guide dog denial any time I request a rideshare. Overall, though, most of my experiences with the public are positive ones. I find that people love learning about what my dog does, and it is a great ice breaker and helps ease any uncertainty someone may have when meeting me for the first time."

Unfortunately, even though there are laws and regulations to protect the use of guide dogs in these situations, there are countless reports and stories about people getting kicked out of restaurants or rideshares while having their dog with them.

Alison Roets is a former Envision employee who had a guide dog named Piper who is now retired.

"I loved having a guide dog because the dog goes around obstacles, instead of having to find them with a cane and navigating around them," said Roets. "One of the biggest challenges I faced was people petting Piper without permission. Please never pet the dog while working as this can cause safety concerns. Some handlers do allow it, but you must ask first."

It is important to note that guide dogs and service animals are working and should not be distracted or treated like a pet. This means that you should not touch, talk, feed or otherwise interact with the dog while it is working. The dog needs to concentrate and perform for its handler. When walking with a guide or service team dog, you should ask the handler where you should walk. Depending on the situation, they may ask you to walk ahead of them on their right side, or behind them by their right shoulder. It is also important to always ask the handler before providing any assistance. For example, never attempt to grab or steer the person while the dog is guiding or attempt to hold the dog's harness, ask if the handler needs your assistance. Remember, a service dog is as vital to a person as a wheelchair or cane.

Are you curious about other aspects of life for people who are blind or visually impaired? Contact us at info@envisionus.com with your question and we will connect you with the right people or write a blog post about the topic.