A Permanent Space Dedicated to Accessible Art
By Dale Small, Envision Arts Gallery Coordinator • Apr 12, 2022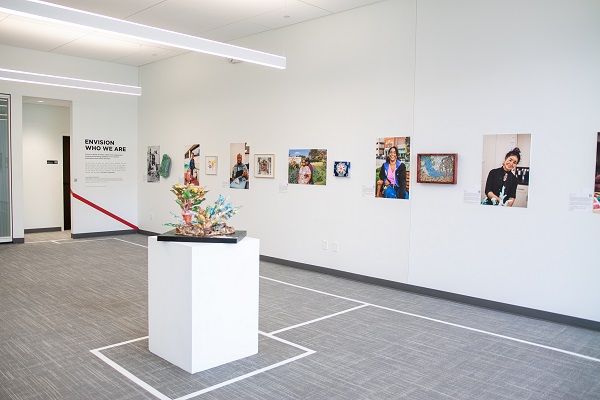 Blog Content
A Permanent Space Dedicated to Accessible Art

Accessing the art world is one thing, that is, knowing all the protocols of being an artist, and knowing the right people to get your foot in the door. But accessibility in the arts is more than accessing a kind of conceptual place. It's physical, it's real, it's people with bodies and minds. What happens if you can't even get your foot in the door in the first place? What happens when you have a disability? What happens if you're in a wheelchair? What happens if you're blind or visually impaired? What happens if you're neurodivergent? What happens if you're immunocompromised?

Throughout my career as an artist, I have had many invaluable opportunities to work with many arts organizations throughout Wichita. All of which were just these groups of everyday people, coming together with the common goal of making the arts more accessible. I was lucky to be working alongside individuals who had this care and passion for the arts and making sure everyone was able to participate.

"We are a group of artists, friends and collaborators working and growing together in our creative explorations and artistic journeys."

I know that the 'art world' is largely inaccessible to people, even someone like me who compared to others may have more access and privilege to be a part of that world. Sure, I've caught a break a time or two, got lucky and was accepted into that one art gallery curated by that one curator. But in reality, most of the opportunities I have had were either ones that were created in collaboration with my friends or built by a small group of individuals with the dedication and passion for something different. Individuals who in many cases are the ones that have been long excluded.

When I began working with Envision Arts, all of this way in my mind, but the connection to what actually needed to happen was not fully realized until I began working with the participants of Envision's programs. Before the Envision Arts Gallery ever seemed like a possibility it was a dream. It was a conversation with the participants of Envision Arts. Everyone expressed that they wished that there was a place for them outside of the basement of Envision Main St. These conversations turned into ideas of what was possible, and these possibilities inspired other conversations with more and more people until one day it was a reality. But there was still work to do.

Accessibility, like equity, asks more of us as people than diversity or inclusion can. That is because when we have a goal to make something accessible, we cannot ignore the variables that are holding people back.

The need for something like Envision Arts Gallery and Community Engagement Center seems long-awaited. Of course, galleries and museums all over the world dedicate their walls to art created by individuals who are disabled or individuals who have been marginalized. But in many cases, those opportunities are often a one-time thing and perhaps not genuinely trying to make a change.

There are some spaces that center around those with disabilities, but they are more common in bigger cities. And we still have more work to do to make our space more accessible to everyone. But it felt like the time to try because we believe Wichita needed a permanent space that centers individuals with disabilities. A place to share their creativity, their stories, and their resilience.




The Gallery's First Exhibit: Envision Who We Are

The first exhibit, Envision Who We Are, was available January 15 - March 15 and featured 18 portraits of some of the most dedicated and passionate participants in the Envision Arts programs paired with artwork of their selection. Gallery visitors were able to interact with the artists, the Envision team and be a part of this one-of-a-kind initiative. Each portrait included in this exhibition is what I would consider a collaborative portrait. One where the individual in the photograph was given as much freedom or choice to decide where or how their portrait was created. Some individuals choose to have their portrait be in color or in black and white. Some choose to have it at the Envision Arts studio or some at their favorite place in the community.

The Envision Your Community Portrait was inspired by the portraits of Envision Arts participants which were displayed throughout the gallery. The Community Portrait Wall was an opportunity to invite people into the Envision community. The Community Portrait Wall was created in collaboration with Lamphouse Photo Co. as a place of conversation and fun. During the grand opening visitors were invited to take their portrait and display it in the Patricia A. Peer Window Gallery. After the grand opening, each day that the gallery was open, we always had a polaroid camera available for individuals to take their own self portrait to add to the Community Portrait Wall.

The Interactive Braille Wall in the Community Engagement Center was a place for the community to answer the question Envision _____? This was designed as a chance for the community to express what they wanted to happen in the Envision Arts Gallery. Many people answered the question, and many others created incredible works of art inspired by the 6-dot system of Braille.

Making the Gallery Accessible

With a simple method using white duct tape and a cord underneath, we created a tactical grid to navigate safely throughout the gallery those that use a cane. The white tape on the dark gray carpet provides enough contrast for those with low vision. We created braille wall placards for each piece of art and each wall statement that has an associated QR cord that can be felt and scanned which leads to a readable text document that can be listened to on a cellphone.




In the future I think that it would be ideal for the Envision Arts Gallery to utilize even more types of accessible technologies like in-gallery audio listening devices and semi-permanent modular flooring tiles. It is also necessary that the gallery exceed ADA requirements for the space and set an example for other art galleries across the world.

Growth for the Envision Arts Gallery

I am hopeful that the Envision Arts Gallery can continue to grow, break down barriers for artists and individuals with disabilities, and change the perspective of what it means to have a disability. There are disabilities both visible and invisible and the spectrum of disabilities does not discriminate, but people do. I hope that the Envision Arts Gallery can be a place to educate individuals who may be more privileged or may not have a disability. One of things that I have come to realize in my time in working with Envision is that any person can become disabled at any point in their lives. Whether that is a visual impairment, autoimmune disease, or losing mobility.

Despite those things, I hope that the Envision Arts Gallery can exhibit artists with disabilities from all over the world right here in Wichita, Kansas. I hope we can connect more people and inspire everyone to embrace their creativity and tell their stories.

Upcoming Exhibits and Events

The new exhibition at the Envision Arts Gallery right now is titled Where the Sky Touches the Sea featuring two solo shows by Envision Arts participants Erica Johnson and Tomiyo Tajiri.

Waves of Memory is Erica's first solo exhibition which features ceramic artwork shown in the Patricia A. Peer Window Gallery. Fusion is a retrospective exhibition by Tomiyo which shares her story spanning over 10 years of artistic creation featuring ceramic, washi paper installations, and more in the Main Exhibition Hall. These exhibitions are available to experience now until May 27.


Plus, we have an exciting exhibition opportunity open to the community which will be announced in the near future. Follow us on Facebook or Instagram and learn more at www.envisionartsgallery.com.