ADA 30th Anniversary
By Envision Marketing • Jul 24, 2020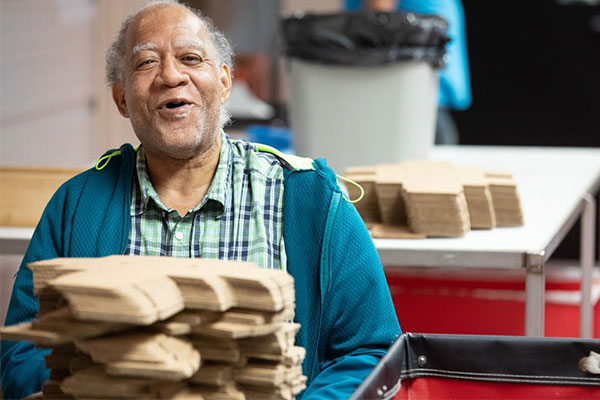 Blog Content
The Americans with Disabilities Act (ADA) turns 30 this Sunday. In its relatively short lifespan, this landmark legislation has created a more inclusive America where people with disabilities have equal access to all areas of public life, including employment.

As one of the largest employers of people who are blind or visually impaired in the United States, Envision benefits daily from the contributions of people of all abilities.

Christy Blaes, discrepancy coordinator at Envision
I work at Envision in Customer Service and I use MAGic that magnifies everything that is on my computer screen. Envision is the only place I've worked that had assistive technology that allowed me to be able to use a computer. I'm looking forward to the BVI Workforce Innovation Center to open up more opportunities for the blind or visually impaired to work in an office setting and be able to do administrative work.

Robert Duckworth, manufacturing employee at Envision
Electronic fingerprint readers have helped me and many other Envision employees be independent with computers and believe "hey, I can do this." Envision's openness to new ideas is making our jobs better.

Chad Morrison, manufacturing employee at Envision
We're not looking for someone to make us rich, we just want the opportunity. We know we can work hard.

We want businesses across the country to follow our lead and discover the unlimited possibilities that come with providing meaningful job opportunities to people with visual impairments. Together, we can decrease the staggering 70 percent national unemployment rate that exists among people with vision loss.

The BVI Workforce Innovation Center that is housed at Envision is working with partners nationwide to address the lack of accommodation and accessibility in the workplace that has created a gap between the demand for professional, high-tech jobs and the availability of those positions to people with vision loss.

Beyond employment, the center is putting a greater spotlight on digital accessibility, challenging companies to embrace inclusivity by creating websites and apps that are accessible for all customers and job seekers, including those with disabilities. According to the U.S. Census Bureau, about 56.7 million people, or 19 percent of the population, have a disability. They are a large group that shouldn't be excluded.

The ADA's 30th birthday celebration provides a welcome opportunity to reflect on how far we've come and where we still need to go. Envision is committed to providing independence and opportunity to as many people who are blind or visually impaired as possible.