Therese was just 12 years old and completing 5th grade when she was diagnosed with a visual impairment called Stargardt Disease, a juvenile form of Macular Degeneration. Therese had been struggling in school since first grade, beginning to experience vision issues in kindergarten, when it became very difficult for her to read. When she was taken to see an eye doctor, she was prescribed glasses and was told she met markers for dyslexia curriculum. However, she still could not differentiate letters.
While driving around town to look at Christmas lights one day, Therese's family chuckled at a display of Santa's sleigh being pulled by nine tiny lawn flamingos. Therese then said that she couldn't see them. Daniel and Brandi, Therese's parents, knew that she would have been able to see them the year before, which signaled to them that something in her vision had changed for the worse. Daniel and Brandi took Therese to several eye doctors. One doctor suggested it could be a disorder associated with anxiety and wrote a script for placebo eyeglasses. When she was diagnosed with Stargardt Disease at 11 years old, and her younger sister Stella at 2 years old, the Envision Vision Rehabilitation Center (EVRC) was recommended to the family for services.
Therese met with Dr. Donald Fletcher, Medical Director of the EVRC, and also received help from Envision Occupational Therapist Karen Kendrick, attending low vision rehabilitation appointments where she was taught skills and given low vision tools to help her maintain more independence and confidence. As Therese's central vision slowly worsened, she received a magnifier from the EVRC, which drastically changed the way she interacted with printed text. Information about the Envision Level Up Program was also shared with her parents, explaining that with more access to assistive technology, training and interaction with other students like her, Therese would gain confidence and improve her academic success.
Therese attended the 2022 Level Up Program and was introduced to magnification on a laptop, the importance of finger placement when keyboarding, and learned how to use a program called Talking Typer, where she was able to learn typing at her own pace.
After the program was over and Therese and her mom Brandi came in for her next appointment, Brandi exclaimed with tears in her eyes, "Because of the assistive technology and training Therese received through the Level Up Program, she has improved her reading by two grade levels since the summer and has gone through three math books!" Therese also expressed her excitement, stating, "I don't feel stupid anymore!"
Therese, now 13 years old, is one child in a family of six. Her younger sister Stella, who also has Stargardt Disease, and is now four. Both children are homeschooled, with Therese splitting her time between local schooling and home education. Now, the family participates in Envision sponsored activities throughout the year and Therese returned to Level Up again in 2023. "I am so thankful that we came to Envision. Because of the resources we have now, Stella won't have to struggle the way Therese did," said Brandi.
Therese plans to pay it forward as a mentor at Envision programs someday, when her little sister Stella will attend.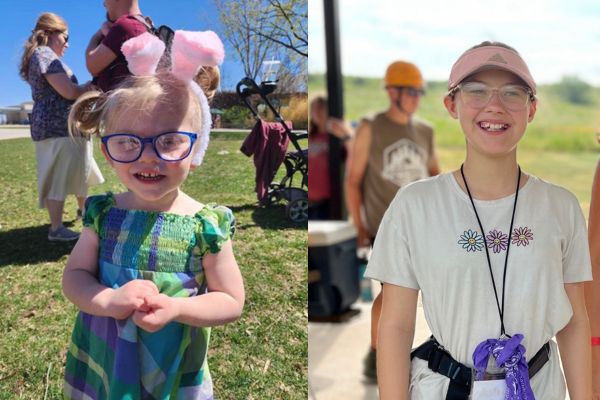 "I am so thankful that we came to Envision."