Andrew McLeod is an example of an Envision programs participant who is excelling academically and personally, showing everyone around him that being visually impaired is just one aspect of who he is. He has practically grown up with us and been greatly impacted by his connection with Envision and the Level Up program.
Andrew has Leber's congenital amaurosis, an eye disorder that primarily affects the retina. His connection to Envision started in the Envision Vision Rehabilitation Center when he was barely three years old. In the years since, he has participated in almost every support program offered at Envision: reading club, homework club, arts, music, golf, track, support groups, chess club, martial arts, biking and Heather's Camp. You name it, he's been in it.
While in middle school, Andrew attended his first Level Up program, continuing to progress in his knowledge, interests and skills. As Andrew advanced, he served as a Career Service student mentor. This past summer he attended Level Up as a paid assistant technology instructor. Andrew credits the Level Up program for sparking his interest in technology.
Through Level Up, Andrew connected with High Touch Technologies, a software, technology and communications company in Texas, Colorado and Kansas, and was offered an internship he immediately accepted. Andrew made the most of his time by working with the company over his school's winter break. The internship helped Andrew understand much more about information technology jobs and reaffirmed his passion for technology. "I found a job I could do for the rest of my life," Andrew said.
Always searching for his next learning opportunity, Andrew began a second internship in December at Envision in the Marketing Department. He is assigned to the NFB Newsline, an audio news-delivery service.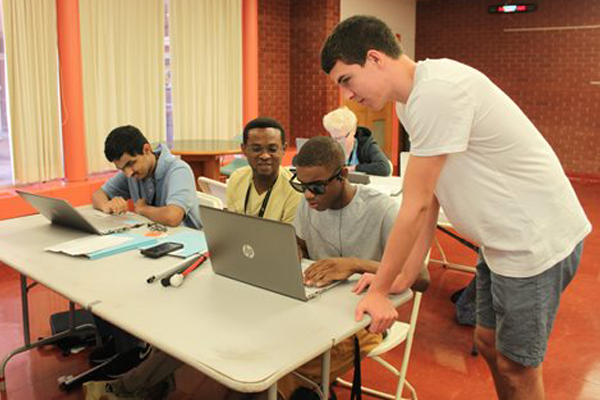 Andrew McLeod helps students at the Envision AT Level Up camp.
---
Andrew, who will graduate high school this May, has been taking college classes since his junior year. He has scholarship offers from both Oral Roberts University in Tulsa, Oklahoma and Wichita State University. The support Andrew received throughout the years from Envision helped put him on the road to success. He will undoubtedly thrive on whatever path he chooses to follow.