Winter Paralympics 2022: Inspiring Athletes with Disabilities Around the World
By Tiffany Trejo • Mar 11, 2022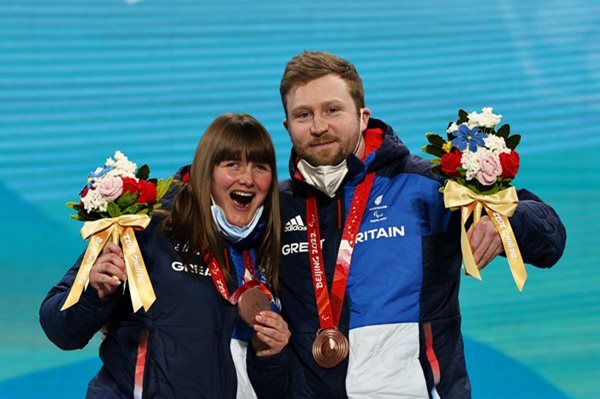 Blog Content
Last Friday, March 4th, the 2022 winter Paralympics kicked off in Beijing, China. The Paralympics were founded in 1948, however, there has not always been a place for these athletes to compete on a global scale. It was not until 2001 when the International Olympic Committee and the International Paralympic Committee (IPC) teamed up to ensure the cities where the Olympics were held also had a spot for the Paralympics. The IPC stated that:
"The practice of sport is a human right. Every individual must have the possibility of practicing sport, without discrimination of any kind and in the Olympic spirit, which requires mutual understanding of a spirit of friendship, solidarity and fair play."
At Envision, our mission focuses on improving the quality of life while providing inspiration and opportunity for people who are blind or visually impaired and/or those with disabilities. Every day, we witness impressive achievements from our colleagues, participants and patients who are blind or visually impaired as they take on the "dragon of blindness" as our Certified Orientation and Mobility Specialist puts it. We will always advocate for people with disabilities to have the same opportunities as everyone else which is why we're passionate about supporting the Paralympics.
Over 550 athletes from more than 23 countries arrived in Beijing to compete last week. For an athlete to qualify for the Paralympics, they must have one of the following classifications created by the IPC: impaired muscle power, impaired passive range of movement, limb defiance, leg length difference, short stature, hypertonia, ataxia, athetosis, vision impairment or intellectual impairment. The classification of the athlete dictates which events they can qualify to compete in. For example, athletes who are blind or visually impaired can compete in para-alpine skiing and para-Nordic skiing.
Brian McKeever who is visually impaired and the most decorated winter Paralympian is competing in his final Paralympic games. He recently won a gold medal for Canada in the para-Nordic Men's Sprint. Brian, and his brother and former guide, Robin McKeever were recently featured in a Toyota Super Bowl commercial where he said "If I can leave something behind, I hope it is that we made Paralympics more visible. We made the movement more visible. We helped to show that there was parity, certainly at the highest levels between Olympics and Paralympics, by qualifying for both Games."
Millie Knight is another highly decorated Paralympian who lost 95% of her sight by age 6. At only 22 years old, Knight is competing in her third Paralympic games as an alpine skier. She recently won a bronze for Great Britain in the women's downhill skiing event. Millie is outspoken about the fear she experiences traveling downhill at 70mph relying on only her hearing and guide, Brett Wild. In a recent interview with The New York Times, Knight stated "I feel like sometimes I'm being weak in letting that fear affect me as much as it does sometimes, which is then a whole host of other things that I need to worry about as well... I've got to stop the negative thoughts and the way that I sort of view myself." Millie is a shining example of not letting fear stop her from chasing her dreams.
Just like the Olympics, the Paralympics also hosts a summer Paralympic game which will be held in Paris, France in 2024. Athletes who are blind or visually impaired will be seen competing in goalball, swimming, football five-a-side, para-archery, para-athletics, para-cycling, para-equestrian, para-judo, para-rowing, para-taekwondo, and para-triathlon. Several Paralympics athletes compete in both the summer and winter games so make sure to mark your calendars to follow along on their remarkable journeys.
What it's Like for Millie Knight to Ski Nearly Blind
https://www.nytimes.com/interactive/2022/sports/olympics/skiing-millie-knight-paralympics-fear.html
Paralympic XC GOAT McKeever beats Adicoff for gold in sprint | NBC Sports
https://www.youtube.com/watch?v=w4mVdnms97k
Envision organizes various physical fitness activities for people who are blind or visually impaired, such as golf and running. Visit our website for more information or reach out to our program staff by emailing programs@envisionus.com.